New Triple-Band
November 21 2022:  HYFIX.AI announces new Triple-Band,1000+ Channel, GNSS Base-Stations for GEODNET with an introductory Black Friday Special
Triple-Band GNSS Base-Stations maximize GEOD token rewards while providing GEODNET increased compatibility for use with existing Agricultural and Survey equipment
San Francisco, November 21 2022 –HYFIX.AI, a leader in IoT Global Navigation Satellite Systems (GNSS) and precise location technologies, announces the availability of new Triple-Band, 1000+ Channel, MobileCM products for the world's largest decentralized geospatial reference network - GEODNET.  Triple-Band enabled GEODNET stations are eligible for up to double the GEOD token rewards rates of the Dual-Band stations.
The Mobile Centimeter (MobileCM) base-station is a GNSS base-station for Real-Time Kinematic (RTK) precise-positioning applications in Autonomy, Agriculture, Construction/Survey, Drones and Geo-Science applications.  With today's announcement, the MobileCM station is now available in configurations that support Triple-Band operation.   
Triple-Band operation ensures the GEODNET network supports centimeter accurate RTK performance with all variations of fielded GNSS rovers.  Triple-Band support also enables reliable RTK performance with popular low-cost L1+L2 GNSS modules from Ublox such as the Ublox F9P.
| | | | |
| --- | --- | --- | --- |
| MobileCM Version | Channels | Total Bands | Details |
| Triple-Band | 1000+ | 12 Bands | L1, L2, L5, E1, E15a, E5b, B1I, B2I, B3I, B1C, B2a, B2b |
| Dual-Band | 150+ | 6 Bands | L1, L5, E1, E5a, B1I, B2a |
Note:  All MobileCM stations are full constellation (GPS, Glonass, Galileo, and BeiDou)
Existing Dual-Band MobileCM stations can also be easily upgraded from Dual-Band Operation to Triple-Band via the purchase of a MiniPCIeTriple-Band plugin Module. Installation to an existing Dual-Band MobileCM requires 10 minutes and a firmware upgrade.
Black Friday Special
HYFIX.AI is also pleased to announce these new products with a Black Friday introductory special.  Starting 11/21 and running thru 11/30 midnight, items ordered during the Black Friday Special shall be shipped within 6-8 weeks of order.
| | | |
| --- | --- | --- |
| Product | Regular Price | Black Friday Special |
| MobileCM Triple-Band | $695 | $649 |
| Triple-Band Upgrade Card | $195 | $149 |
Note: Upgrade Card is easily installed on existing Dual-Band MobileCM Miners
This special introductory offer is available from HYFIX.AI as well as its authorized international distributors, EUGEO (EU), Cryptostation (UAE), and TechnostoreX (Turkey).
Introduced at the Institute of Navigation 2021 GNSS+ Conference, the Global Earth Observation Decentralized Network, GEODNET, received a best presentation award and has rapidly grown since official launch in early 2022 to become the world's largest decentralized geospatial reference network. The MobileCM station automatically uploads real-time satellite data to GEODNET via a Wi-Fi-based Internet connection.  The real-time GEODNET coverage map is found at https://console.geodnet.com/map.   MobileCM base-stations are self-hosted and receive GEOD token rewards while powering commercial precise-positioning applications. 
For more information on the MobileCM GNSS base-station, please visit https://hyfix.ai
About HYFIX.AI
HYFIX develops a suite of AIoT hardware and software to enable highly accurate position measurement using low-cost GNSS chipsets.  The Mobile Centimeter (MobileCM) receiver family are simple turn-key hardware products, and the Embedded Centimeter (EmbedCM) stack is an embedded RTK and DR engine for low-cost GNSS chipsets including Synaptics, ST and Aihora. https://hyfix.ai
 About GEODNET
GEODNET is a decentralized network of high-precision multi-band GNSS base stations for AIoT, Geo-Scientific, and MetaVerse applications.  GEODNET stations #MineTheSky for real-time satellite data, and GEODNET is the basis of a new class of distributed SciFi cryptographic sensor networks powered by blockchain.  https://geodnet.com
---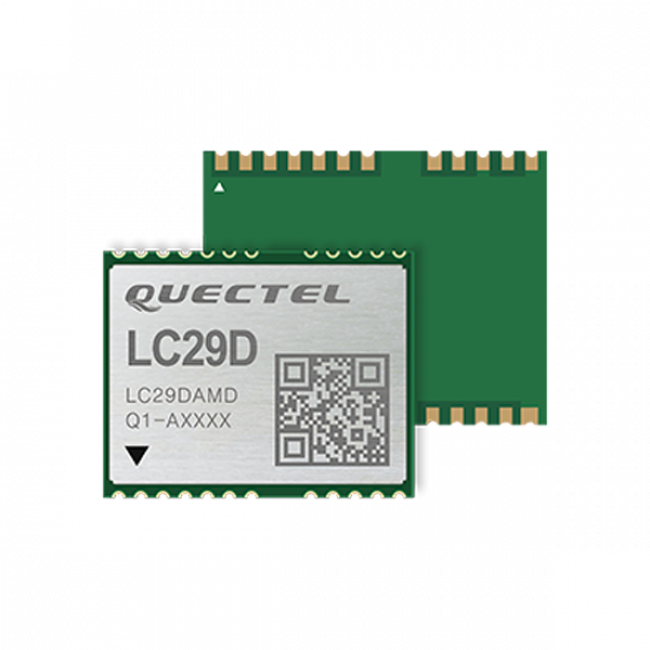 Quectel GNSS Modules
Quectel's LC29 and LC79 Dual-Band GNSS modules run HYFIX EmbedCM algorithms. Support and Customization is available for embedding advanced algorithms in the newest generations of GNSS modules.
Visit Quectel